Sage Software will be releasing the latest versions of Timeslips Billing Software in late April 2018, which will include Timeslips 2019 and Timeslips Premium.  Below are some of the new features being added to each edition of Timeslips.
Please be aware that as of July 31, 2018, the only supported versions of Timeslips will be 2018, 2019 and Premium.
Timeslips Premium & Timeslips 2019 – New Features
Client Contacts – Provides an additional tab on the Client Info screen allowing you to store relevant contact information for people related to that client.  Information like phone, address, LinkedIn, Twitter inform can be saved to a client.
LawPay "Pay Now" Integration – Sage Timeslips integration with LawPay allows Timeslips and LawPay users the ability to include a "pay now" link on their client's invoices to
pay accounts receivable balances online via a LawPay virtual terminal.
Security Profile Reporting – New report detailing Timekeeper security restrictions and profiles.
Electronic Billing Improvements –
Additional formats: Ledes 98BI, Ledes 2000 and Ledes XML Standard Formats
Ledes 98B Naming Options – Enhancement enables client email addresses to be included on the pre-bill worksheet.
Timeslips Premium – ONLY – New Feature
Day View:  Slip Entry – Day View is an enhanced time entry method providing Timeslips users the ability to enter work performed into a day calendar view.  It also displays a monthly calendar showing time spent each day.  Choose to display this time as "Total Time", "Billable Time" or "Unbillable Time".   See sample view below: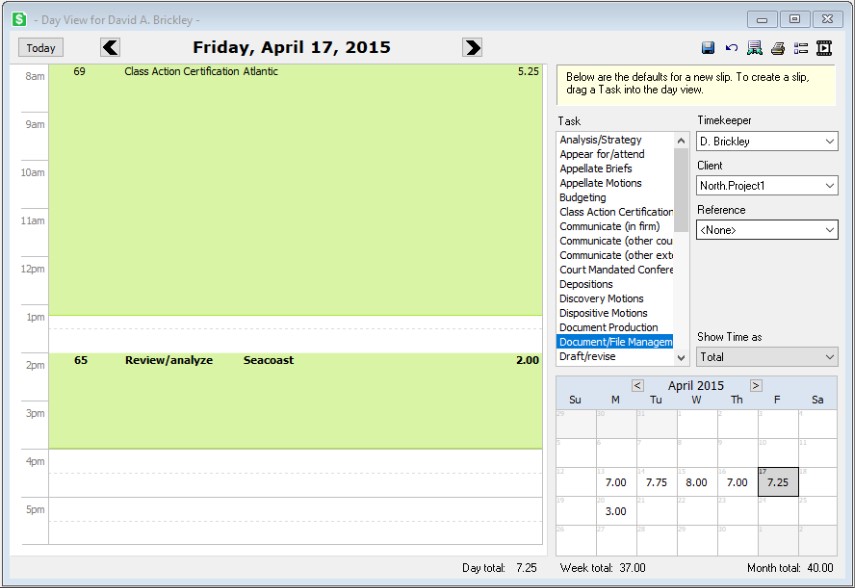 Please contact Plummer Slade at office@plummerslade.com or 412-261-5600 for more information, pricing or to schedule your Timeslips upgrade.